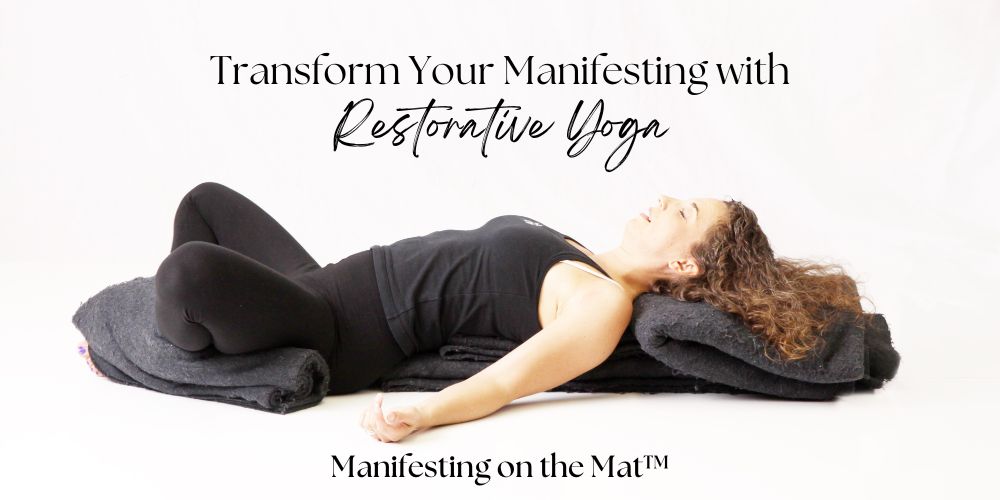 Visualize.
Goal setting.
Action taking.
 Affirmations.
Pushing.
Doing, doing, doing, is often how people see moving toward the life of their dreams.
It's all about ACTION.
But if you want to reach the life of your dreams, the one that is in your heart, and you want to attract it with the Law of Attraction, there is a necessary balance to that action: faith.
It's the yin to the yang and the other side of the same coin – in other words, just as important.If you think of manifesting from the energetic aspect, action is sending things out into the universe and faith is allowing what you have requested to flow back.
If we just keep sending out and sending out, we won't be able to let the wave back in.
Think of it like an echo – if you keep sending out a sound without allowing the echo to return, you never give the echo a chance to respond.
Remember, our goal is to work with the Universe. That means allowing the Universe to send you pieces to the puzzle – just the right person, the right opportunity, the right event – to help you move to the next place.
BUT you have to soften into it! You have to literally allow, trust and RELAX!
BUT that is not easy for many of us (ahem…me…this has been my work in 2023) and developing faith, the knowing we don't have to do everything AND we don't have to be doing everything all the time, is hard, especially for those of us raised smack dab in the middle of hustle culture.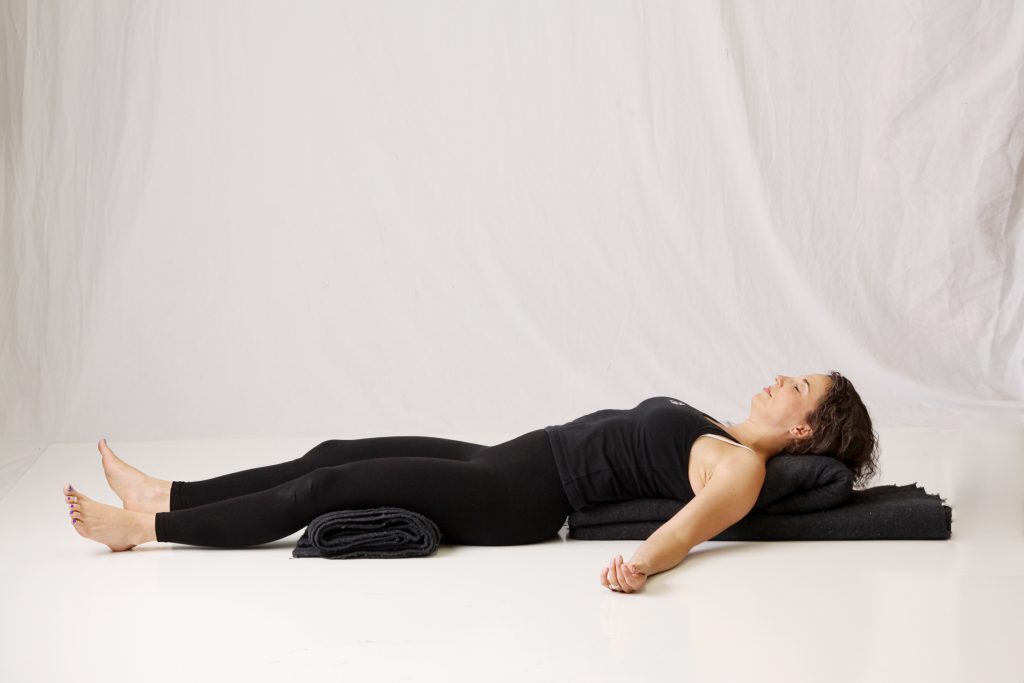 This energy shows up as tension in the body and a pushing out of our energy field. We want our field to be receptive, soft, like a sponge reach to absorb things in.
We need to learn to be truly soft in our receptive moments, and carry it into our active moments, too!
Manifesting on the Mat with RESTORATIVE YOGA
That's where Restorative Yoga comes in.
Restorative is the Yoga of being rather than doing. The more you relax and soften, the deeper the pose becomes, you see where I am going, don't you?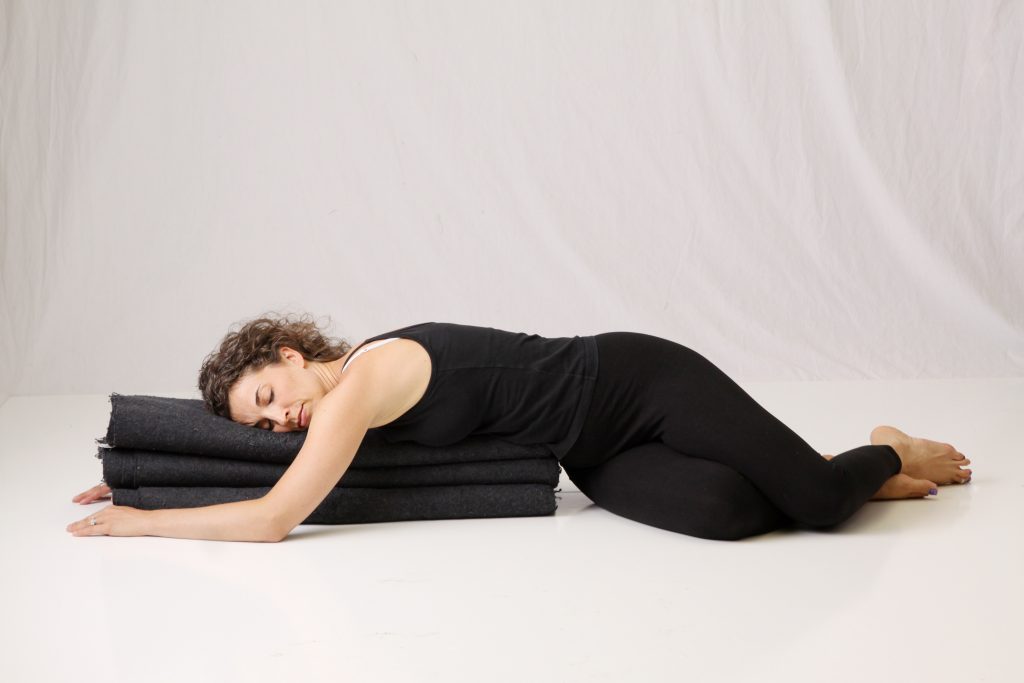 For those of us who feel we have to be DOING to get anything, the irony is we need to be BEING to get everything.
When we allow ourselves to BE more often and doing it in a truly relaxed manner, then you can allow in what the universe is trying to deliver.
You can't lie to the universe. Your energy must be fully relaxed.
Tapping into the Energies of Manifesting with Restorative Yoga:
Plus, you can use Restorative Yoga to develop certain energies helpful to manifesting but in a softer, more receptive way:
FEELING EXPANSIVE:

One of the most important energies you can cultivate for manifesting. This energy is the "I deserve this, dammit!" energy. Normally we focus on standing poses, backbends and other power poses, to develop this energy, which is fantastic. You can feel the strength emanating from your body. But working in a quieter space, in Restorative Yoga, helps you develop on a deeper, energetic level. You can work on literally expanding your energy field – without moving a muscle.

Focus on your inhales, feeling them fill the room. What you are filling the room with is your energy field. You don't need an extra deep breath, that is just stimulating for your nervous system. You just need to feel your gentle, comfortable inhale reach the corners.
Passive backbends are also lovely because they open your heart and release the tension in your back which limits what you feel you deserve.
DEEPENING GRATITUDE:
Opening the heart center will deepen your gratitude. When you do it via Restorative Yoga, you can really feel the energy of the emotion. In the quiet, your heart opens. Forward folds also represent the energy of the present, where gratitude resides. Adding in a bow of the head with a feeling of reverence and it deepens the energy of gratitude.

Restorative backbends help open up the heart center in a gentle way.
Supported forward folds, especially Child's Pose, allows you to completely relax into the energy of gratitude.

Focus on your breath, keeping the inhale and exhale equal and letting the breath float in and out effortlessly. Enjoy your breath.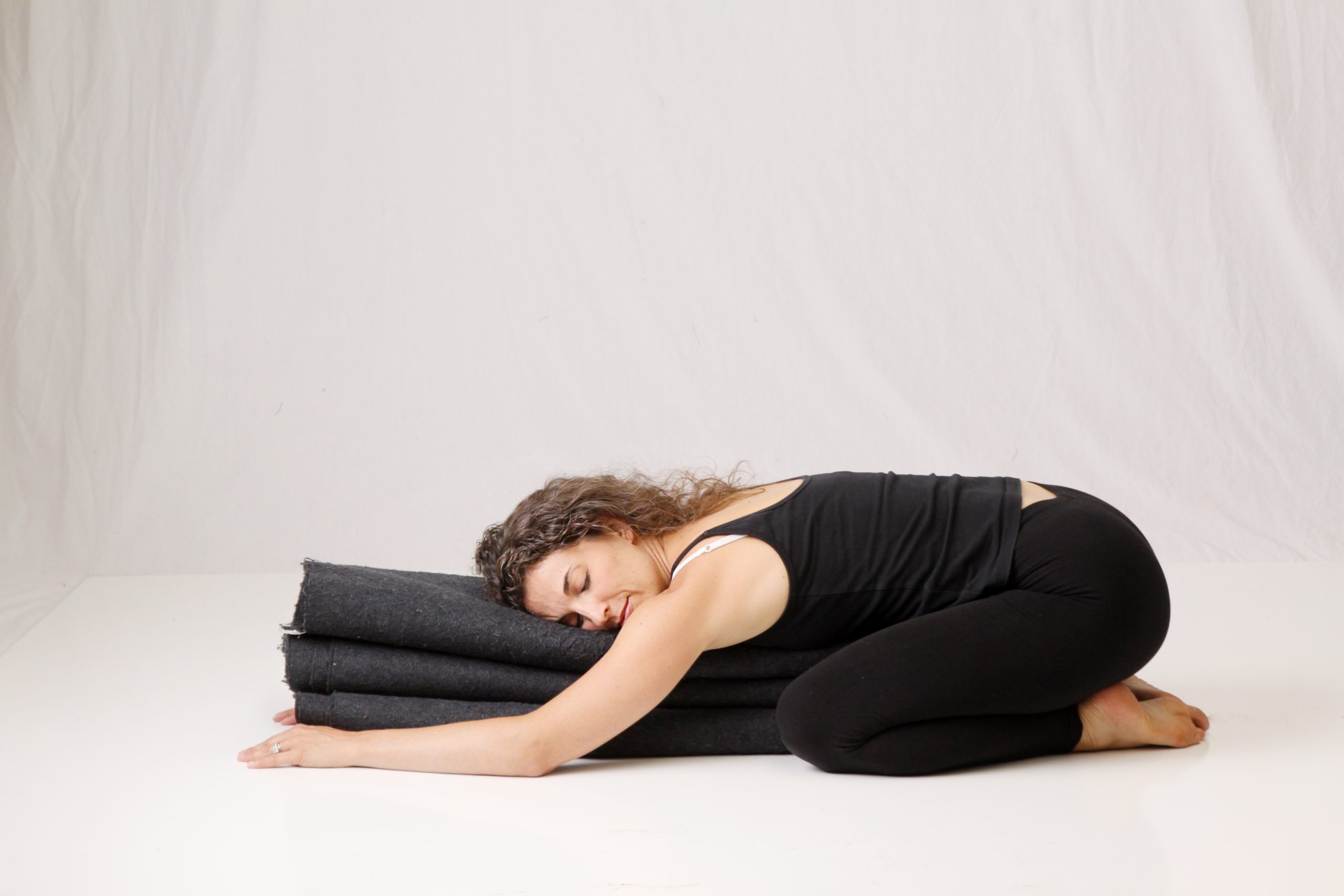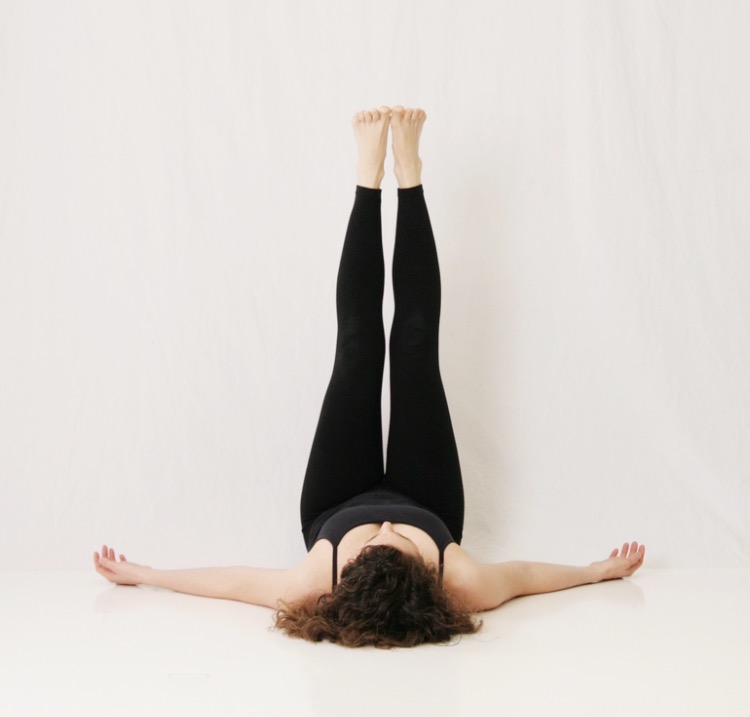 Each month, I teach virtual, live Restorative Yoga classes with manifesting themes. These classes help you relax fully, essential for successful manifesting. Through poses, breath, visualization and essential oils, we work on developing an aspect of your manifesting practice.
LETTING GO TO FULLY SURRENDER:
This one is a bit of an "of course!" for Restorative Yoga. But also remember that our body is a reflection of our subconscious mind. Since our limiting beliefs are stored in the subconscious, they are also in our body. When we fully soften, it helps us release what we are holding onto: limiting beliefs, expectations, control.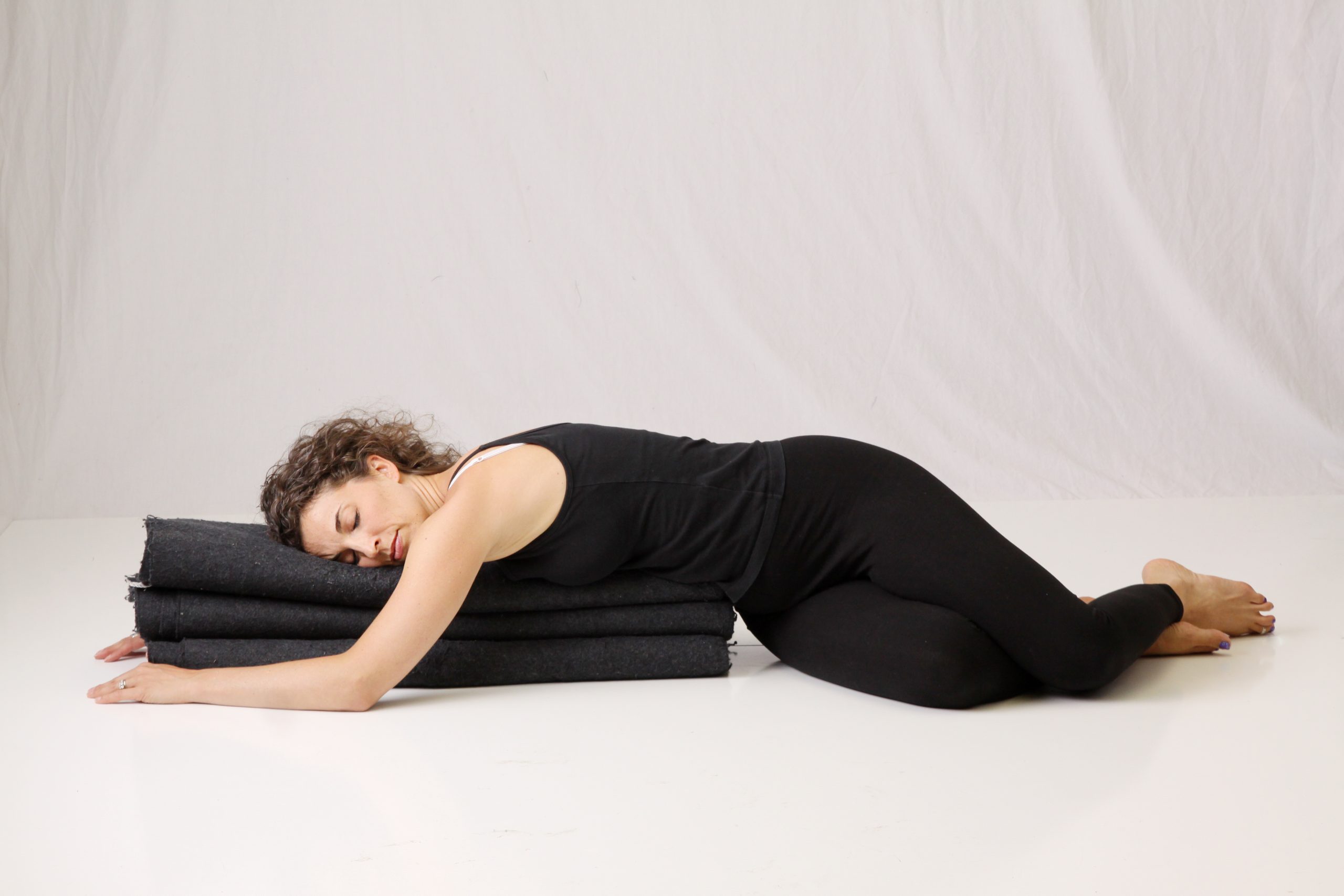 Your content goes here. Edit or remove this text inline or in the module Content settings. You can also style every aspect of this content in the module Design settings and even apply custom CSS to this text in the module Advanced settings.