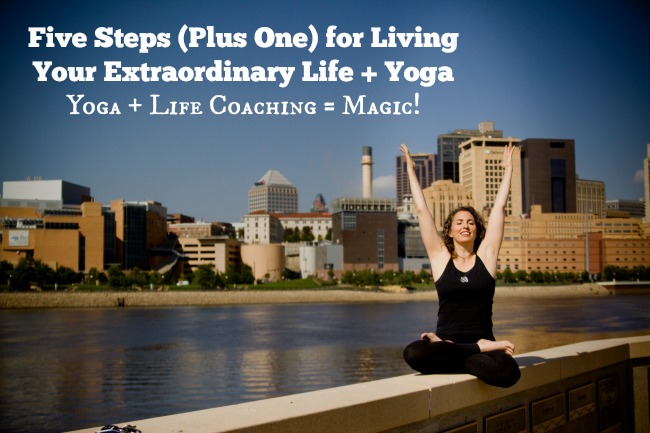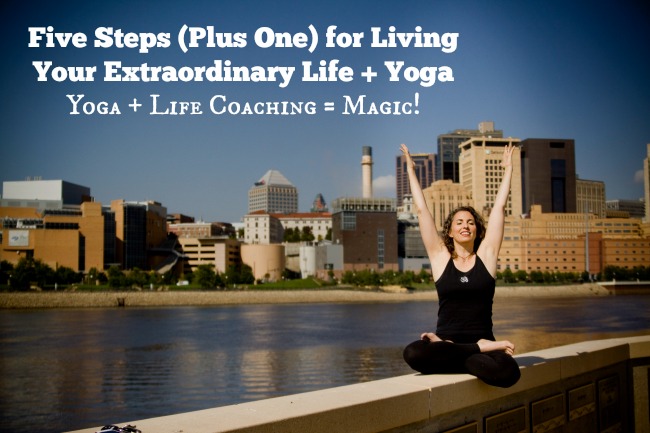 IT'S TIME!!
Ready to step into the life of your dreams?
To let go of worry and take control of where your life is headed?
Because life is meant to be Extraordinary!
Join inspiring Life Coach and experienced Yoga Educator, Laura Erdman-Luntz, for a powerful, life-transforming program:
Five Steps (Plus One) for Living Your Extraordinary Life
What makes this program unique, powerful, and especially transformative — you change on all levels of your being with the addition of YOGA and ESSENTIAL OILS.  Life Coaching usually happens through our minds — we think about what we want, think about what we will do to get there, think about the discipline we need, think about why we aren't where we want to be, think, think, think.
Our minds are glorious things, but there is only so far we can go with our minds.  In yoga we see our bodies as multi-layered, with the mind being simply one and a complete yoga practice works all of these bodies:
Physical:  Our actual physical body. We do physical poses to help us relax the tension and bring more suppleness to our being.
Mental:  The level of our everyday thinking. This is where worry and necessary thought lies (such as trying to remember something).  It is also where we notice racing thoughts when we sit to quiet the mind. We do meditation/visualization to work on becoming more aware of what is happening in our mind and direct it to more positive thoughts.
Energetic: While this might be a little subtle for some of us to be aware of, it is a very real part of us and effects our day to day more than we realize.  Many say all of our mental and physical issue have a start in the energy body.  We do breathing exercises to access our energy body and clear out the clutter there.
Higher mind: This is where your personality lies.  It is the home of habitual thinking and where we fall back when we are tired and stressed.  (Ever feel shocked when your mom's words come out of your mouth? Here is where it happens!)  We study philosophy for the higher mind so we can open our mind to new ideas and break the cycle of habitual thinking.
Bliss: Our goal with yoga is to energy this body.  Hopefully you have experienced your bliss body at some point or another.  You know you are there when you are calm, peaceful, in the moment and truly feeling you are embodying your true self, you know, when you aren't pretending.  It is a very authentic place to be.
A complete yoga practice  is designed to work on all of the layers, to clear the clutter in each.  We do asana (poses) for the physical, meditation/visualization for the mind, breathing exercises for the energetic and study philosophy for the higher mind so we can open our mind to new ideas and break the cycle of habitual thinking.
Our challenges in life also live on all levels.  Have you ever struggled with your financial situation? Having a satisfying relationship? Speaking up for yourself? Getting a new job? All of these challenges are located on all levels of your being.  If we just work on them with our mind, we can only get so far.  Sometimes it is all we need, but it takes a lot of work.
Ready to make it easier??  In this innovative program, we work on all layers, for each of the Five Steps.
Who will benefit from this program?
Anyone with general dissatisfaction with their life.
Anyone who has desired to make a change in their life but just hasn't been able to: Lose weight, make more money, find a satisfying relationships, etc.
Do I need to practice Yoga?
NO!  Each yoga series is basic enough for even the rawest of beginners.
Do I need to use Essential Oils?
No.  I will share with you what I suggest for each step. It is up to you if you want to use them.
What are the Steps??:
Each step has been inspired for you all!  I created this program from 25 years of coaching experience.  These are the steps that work:
Class One: Preparation and Orientation: Get yourself ready!!  Let's find out more about each other and our goals for the program.
Manifesting 101: What does it mean to "Manifest"? Learn about how you are already doing really well in some areas of your life!  The power of FEELING GOOD!
Step One: ASK: Do you know what you want?
Step Two: BELIEVE: Do you believe it is possible for you?
Step Three: ACTION: Let's take some action!
Step Four: LETTING GO TO SURRENDER: There needs to be a bit of faith here, too.  It's time to let go and completely release into the process!
Step FourB: RECEIVE:  Learning how to receive with grace and gratitude.
Step Five: GRATITUDE: Bowing with gratitude to your amazing life.
Can you imagine not only thinking about what you want, but also feeling it in your body?  Feeling yourself grow and get excited??  Plus we will remove the energetic blocks to why you aren't creating it for yourself on your own AND we will displace the limiting beliefs that are hiding out in the higher mind of yours that tell you you don't deserve what you want or you aren't capable of creating it for yourself?  AWESOME!
So, while the addition of yoga is new, I have taught this program in various versions for 10 years. Here's what others have said over the years:
"Remarkable is it in a nutshell.  Laura expects remarkable and miracles – and how cool is that?"

"Every week was truly fantastic!! It was so awesome to work towards a better good and feeling and seeing the results on a daily basis."

"There really are easy steps that we can take each and every day to live more fully and enjoy life!"
This course is perfect for those who are unfamiliar with manifesting and the Law of Attraction as well as those who have been trying to make manifesting work for themselves and need a little extra boost.
  Read MORE comments from clients.
What can you expect for yourself?
Understand why changes you have tried to make in your life just didn't stick.
You will be energized to make the changes in your life.
You will move from a place of motivation to one of inspiration.  What's the difference?  Read it here.
You will be involved with a dynamic group of people ready to support you.
What you receive:
Access to a private web page where you can download all course material,
Access to a private Facebook page where you can hold conversations with fellow classmates (if you are doing it in a group), ask me questions. (Private clients have direct access to me.)
Attend extra LIVE sessions or tele classes with me to receive personal group coaching and ask questions about the weekly topics. (Private Clients do this with me one-on-one.)
Access to my private Facebook page for everyone who has taken this program.
8 Classes of coaching podcasts (about 2 1/2 hours total) (LIVE classes receive lectures directly from me and can use the podcasts in case they miss class.)
44-page workbook
5 hours of yoga video
7 yoga videos (varying in length from 10 to 90 minutes each)
6 breathing podcasts
6 visualization podcasts
ALL for you to download for yourself so you can use them anytime you need to reaccess the feelings in yourself!
The Process:
Each week, you will receive the workbook pages for the week and 1-2 podcasts with Life Coaching talks from me on the topic.  For the first two weeks, your assignments do not include yoga.
In the last 6 weeks, you will also receive:
A yoga video
Sometimes a podcast of the yoga series.  (That way I can teach it to you in the video and then give you a podcast when I talk you through the series but without all the teaching components.  I know.  You're welcome! :-))
A podcast of the breathing
A podcast of the visualization/meditation
Once you sign up, I will contact you soon to send you your first assignment.  The website will open a week before we have our first class.  In the website, there will be classrooms for each of the 8 weeks.  You are free to start chats of questions you have, seek out thoughts from others, share successes, etc.
Please complete the Classroom One assignments for our first meeting.
Experience the course:
Privately: Desire personal service?  To work with me privately?  I would love to spend time with you!  All coaching pieces are done over the phone so you can join me from wherever you are in the world!  Click here for more information.
Group Coaching: Join me via teleclass. In this version, you enjoy a 8-week period, one week for each step, applying the concepts and returning to the group to receive coaching.  This version is heavy in application and coaching.  Click here to sign up!
Yoga Weekend:  Yep, I come to a YOUR STUDIO and inspire you over a weekend. How is that for service??  (Read more about the power of using yoga!)