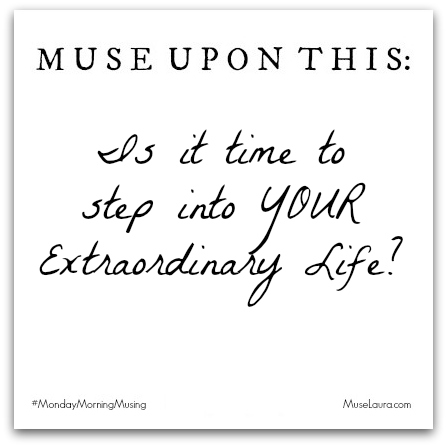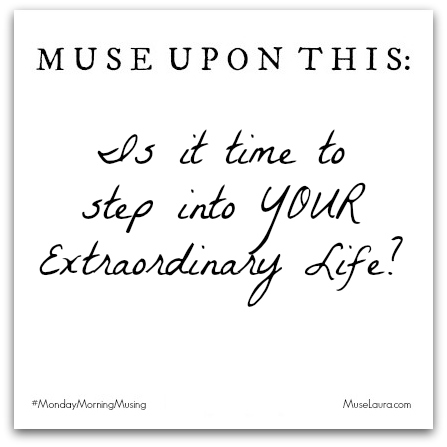 MUSE UPON THIS:
Is it time to step into YOUR Extraordinary Life?
We ALL have an Extraordinary Life inside of us. A life that is deeply fulfilling, purposeful, and vibrantly joyful for you.  A life that comes from your dreams and IS the beauty of what you love; a life that brings out YOUR own greatness.  A life YOU would choose if you were given a choice.
An Extraordinary Life doesn't necessarily mean a bigger house, more money, more work, more, more, more.  (Although it can, if that is what your life is meant to be…)  An Extraordinary Life means living a life that is more authentic to you, a life that more deeply reflects your inner self, a life that brings out your greatness.  I remember the moment I decided to marry my husband.  I realized that I liked who I was when I was with him.  Our relationship brought out my best self.  Your Extraordinary Life will do the same for you!
Follow the musings for the next few weeks as I inspire you by taking you through all NINE SIGNS YOU ARE LIVING YOUR EXTRAORDINARY LIFE.
It's the Extraordinary Life Manifesto!
AND get your OWN Manifesto with ALL 9 signs on a pretty graphic for YOU to sign and post.
F E E L  G O O D  M O M E N T
This is the perfect #FeelGoodMoment whenever you just need a good giggle! Enjoy.
********************************
AND, be sure to FOLLOW ME where I am most active for more FREE inspiration:
Facebook: facebook.com/lauraerdmanluntz
Periscope: @MuseLaura (New to Periscope? You will LOVE it! You can read more here. While you are there, follow my essential oil channel at: @SerendipityOils).