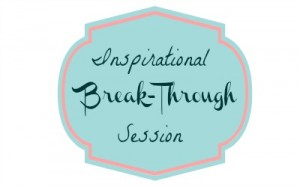 Inspirational Break-Through Session with Me!
Thinking a Life Coach might be just what you need, just not sure?  Perhaps it is just one session you need to move beyond what is holding you back.  Maybe you resonate with…
You enjoy your life, but you have a nagging feeling that it is time to be and do more.  There are some areas of your life that are fabulous, others that aren't up to what you know you are capable of doing.
Perhaps you are going through a major life transition that has woken you up to realize years have passed and you aren't doing what you though you would be doing at this point of your life.
Is it time to feel good about your life?  And I mean really good?
"Working with Laura had opened my eyes
to just how much power
I have to attract everything I want.
Don't pass up the chance to ignite YOUR life!"
~ Jill Barber, Life Coach
Let me help you feel good, really good about yourself and your life!
Let me guide you to awaken YOUR joy!
My message to YOU: My passion is to inspire YOU to live your Extraordinary Life, that life that is full of purpose, deeply fulfilling and vibrantly joyful for you, whatever that is!
Spend 45 minutes with Laura and change your life.
"You have shown me that I can live the life I want – one based on my values and dreams – without fear. I feel more confident in everything I do. Everyday is a joy because I am finally living my purpose. Without your guidance and insights, I would never have gotten this far, this fast. Thank you from the bottom of my heart."
~ Karen Peterson
In an Inspirational Break-Through Session with Laura, you will have the opportunity to move past whatever is holding you back, find more joy in your life, and leave with an action plan for making your discoveries your reality!  Discover you want MORE? Part of your session with Laura is discussing how to move forward with working with her.
"I learned so much in our short time together. I know I can adopt healthy and positive attitudes and feelings right now before I resolve my issues and not wait to get the good feelings as an aftereffect of reaching my goals in the future.  That learning alone has changed my direction to an easier,happier and more positive successful journey.  Thanks, Laura!"
~ Marilyn Mays

"I couldn't believe how much I could change in just one, 45-min session.  Even more amazing — we were really done after 20 min!  Laura quickly found exactly how to inspire me to move forward quickly with my life and gave me easy ways to implement change in my life on a daily basis.  THANK YOU, Laura!"
~ Jackie P., Mother
You can schedule your session right now online.  Simply click below and you will be taken to my online scheduling service.  I will follow up with some questions for you to consider as you prepare for our session together.