CONGRATULATIONS!
On taking the FIRST STEP to making more money!
Scroll down to grab your checklist AND a FREE ebook
Grab your checklist here:
 CONGRATULATIONS!


On taking the FIRST STEP to making more money!
Download and print the checklist. Then take a deep breath and a hard look at your business model, your future, and what you really want to create. Think of this unique time in history as a reboot for you and where you are going.
This checklist can get you thinking.
Then download my best selling ebook,
which I have available for FREE for a limited time for more ideas: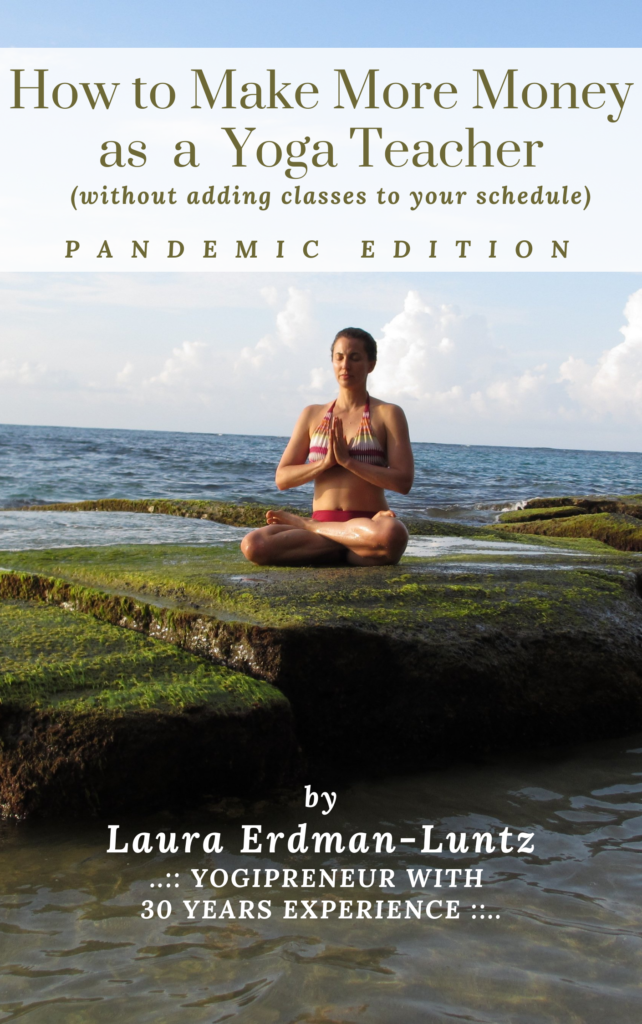 In this special pandemic edition, I will help you:
Get ideas for how to use this time to either make more money by adding revenue streams to your career and/or create new ways to get your name out there so you can continue to earn  money during this pandemic and position yourself for afterwards.

Differentiate between good ideas, better ones and truly great ones (and why there is a difference) so you can make an informed decision for your business and needs.
Move beyond seeing yourself as an hourly wage earner – in other words, finding ways to make money without adding more classes to your schedule.
I also share ideas for income sources that you can't do now (because of the pandemic) but you can add to your vision to help you strategize what you do now. 

 
I have been a full-time Yoga Professional for more than 30 years. I now have 13 streams of income of varying levels of abundance (from a few dollars a year to thousands a month.) I am incredibly grateful I diversified because the pandemic only effected 3 of my streams. Plus, because I think in terms of multiple revenue streams, I was able to meet a need to add another stream.
Times are hard…
I get it.
AND there is much you can do to support your business during this time that will help you make some money NOW and/or help you TAKE OFF once we get past this unprecedented time.
In this ebook, I share "Good, Better and Best" ways to make more money along with specific resources and more!
"I recently purchased your e-book Make More Money Teaching Yoga, and I have definitely found it valuable.  It helped to lay out a concrete plan for the things I already knew to do as well as provide great ideas I hadn't considered.  Thank you!"
Erin Hoffman, RYT
Congratulations!
You are ready to explore ways to supplement your income!
We will get through this. Let me help you get to the other side with an even bigger business.