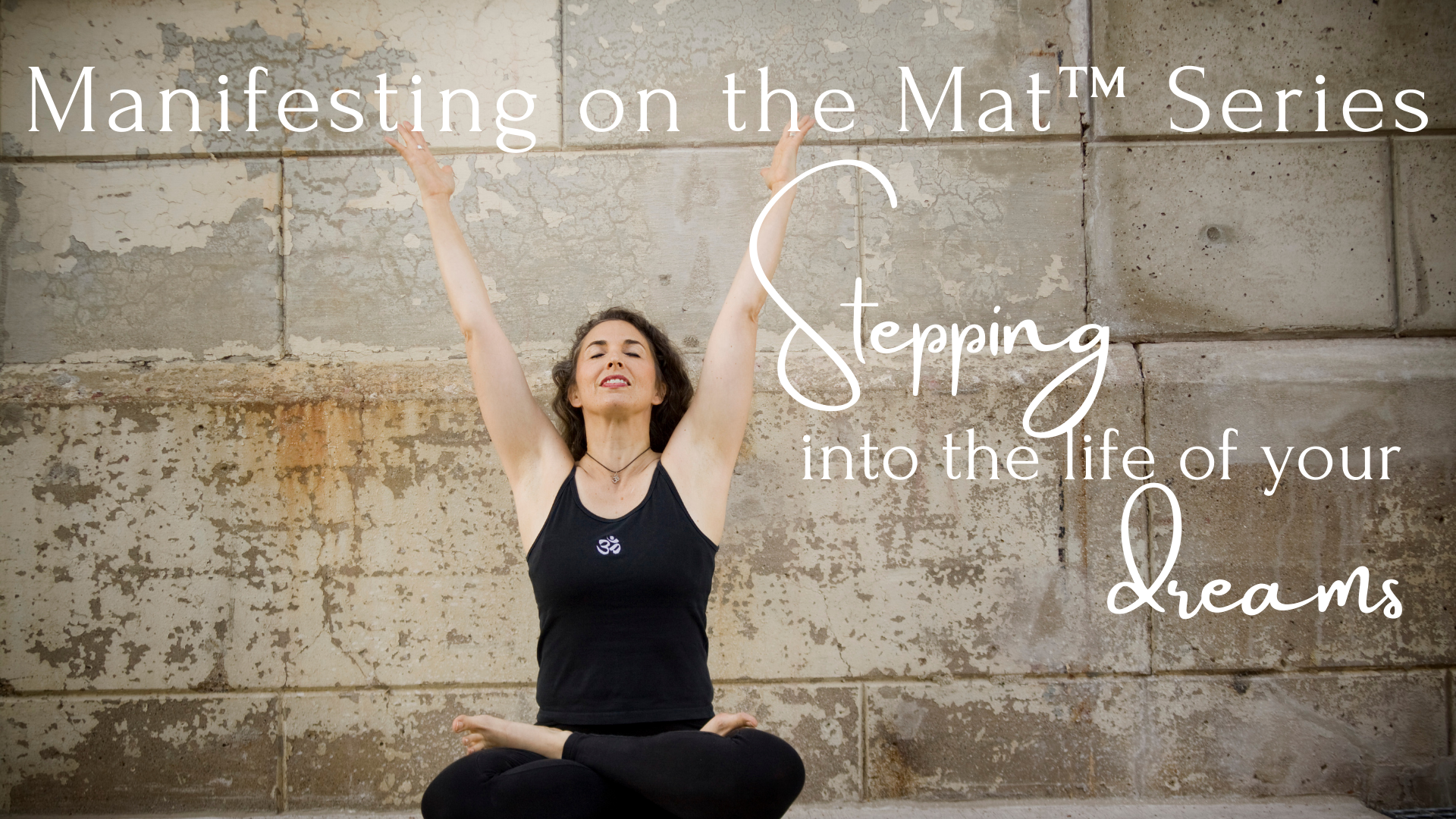 Manifesting on the Mat™ Series
Life Coaching + Yoga = Magic
Manifesting on the mat combines the creativity of Life Coaching and the power of yoga.  Taking these concepts to the yoga mat allows us to make the changes we desire on all levels of our koshas (sheaths):  physically, energetically, and through the higher mind.
As a Life Coach I go through people's minds to get to their hearts.  In yoga, I go through people's bodies to get to their hearts.  What if we put them together in a coherent way to create magic?
Join me in a powerful workshop series created out of over 30 years of teaching yoga and life coaching.
I would love to come to YOUR studio to share these workshops with you!
Let me know if you are interested and we can discuss details.
The series contains a few different workshop choices:
Five Steps (Plus One) for Living Your Extraordinary Life™:
This series is the Flagship of the Manifesting on the Mat™ series.  Taught as either a pure coaching program over 6 weeks (live and teleclass) or as a weekend program, taking each step to the yoga mat.  The series is an incredibly powerful process for guiding people into discovering what they really want in life, discovering that it is possible AND creating the steps to get there.  Laura has taught this series for years and watched people powerfully transform.  Find out more about the program here.
Goal Setting from the Heart (AKA: New Year's Resolutions from the Heart): 
Experience Laura's incredibly powerful workshop that combines coaching and yoga to create goals (or new year's resolutions) that really work!  Using yoga, breathing, visualizations, discussions, and personal work, Laura will guide you through releasing that which no longer serves you, embracing what you want more of in your life, and surrendering to the grace and gratitude of the moment. (7 hours)
Join me LIVE and VIRTUALLY each year.
New Moon Manifesting
Join me each month for New Moon Manifesting (More information about New Moon Manifesting). Each month I send out an email at the New Moon, sharing the astrological meaning of the moon so you can set appropriate intentions.  Then on some months I also do a yoga class at my online studio so we can take our intentions to the yoga mat.
Laura also shares inspirational talks, often on the Friday evening before a weekend training:
Living Your Extraordinary Life: 
What does it mean to live an extraordinary life? To live on purpose with joy, vibrancy, and inspiration?  Join Laura as she discusses the signs of an Extraordinary Life and how YOU can begin living it today.  (1 hour talk.  With workbook and discussion, it is 2 hours)
Awaken to Joy: 
Discover joy in the life you are already living!  Join Laura as she speaks and/or leads a discussion on topics covered in her book, Awaken to Joy.  She will share ways to help you move beyond the ordinary to bring greater peace into your life, creating more open and loving relationships with your friends and family, finding harmony with your co-workers and joy in your work, and bringing more patience, love, and compassion to your relationship with your spouse and children. (1-2 hour talk, depending on level of discussion)
Manifesting on the Mat™ Sample
Enjoy an introduction!  Here's a 20-min video on Building Personal Strength.  This video is particularly useful if you need to build a little confidence around something in your life…