Professional Yoga Teacher with over 25 years of experience!
What if there was a perfect beginner
yoga class just for you?
Does this describe you?
"I have always wanted to learn yoga but am

too nervous to walk into a studio.

"
"I tried yoga but, honestly,

felt intimidated because the class moved too fast.

"
"I tried yoga but the teacher expected me to know the poses already."
"I would do yoga but I feel

too inflexible and out of shape!

"
"My

schedule is too busy

to attend a regular class."
Anyone can learn yoga if it is taught with enough attention to detail, patience and caring.
Laura goes slowly and builds on your knowledge. You will learn how to do yoga.
Each class builds on the previous class so you can move at your own pace. You will learn how to do yoga in the comfort of your own home, fit into your schedule.
And you feel well taken care of.
Bring a studio class to you!
Are you ready?
JOIN Laura Now!
Click below to get started.
Ready to join the
30 million people

around the world practicing
yoga and enjoying the benefits?
Yoga is a powerful practice, affecting your body, mind and spirit.
Here are just a few of the ways science has found yoga can benefit us:
And so much more!
Help you relax and let go of tension.
Make you happier. A regular practice can increase levels of serotonin, a hormone that helps you feel good.
Help you focus, teaching you how to be present.
Protect your spine by keeping muscles supple and strong as well as keeping the discs healthy.
Regulate the adrenal glands by reducing the levels of cortisol, our stress hormone.
Improves balance.
Improves your bone health through weight-bearing exercise.
Sounds good, right?
What if…we could go slowly enough for you to learn every pose correctly, safely
and comfortably? You can move at your own pace, practicing each lesson as many
times as you want.
This 30-class series is like attending the same beginner. class week after week so the teacher can build on the previous class. And it starts from the very beginning.
Each video builds on the one before it to keep you safe and moving forward with learning new poses. Learn at your own pace, do a class as many times as you like.
It's as if you are learning with Laura by your side!
You receive THIRTY (30) CLASS VIDEOS!
A total of 30 class videos
27, 30-min videos to help you fit it into your already busy lifestyle.
3 special videos (#10, #20 and #30) are longer, review classes to give you the opportunity to practice what you have learned and enjoy a longer class.
The series is downloadable so it is yours to use and repeat as much as you want to in the future!
PLUS: Bonuses
BONUSES VALUED AT $149!!
When you purchase the video set, you ALSO receive a bevy of extra bonuses from Laura!
Meditation MP3:

Add a little meditation to the mix. A lovely way to end a yoga session is with a brief meditation. Enjoy this podcast as a gift from Laura for your practice.
Savasana (Relaxation) MP3:

Each yoga class ends with a relaxation time as you lay on your back. In this podcast, Laura talks you through a 15 minute Savasana. You can use the recording anytime you need a little rest and relaxation.
Pose Sheet:

Do you find the names of the poses confounding? Enjoy this composite of photos and names you can print and use.
Create Your Own Home Practice e-course:

Once you are done with the series, learn how to create your own practice. This kit includes a workbook as well as a 45-min podcast workshop.
Resource Guide:

While you can definitely begin this series without any yoga props, if you enjoy yoga you will eventually want to invest in a set of props for yourself. This guide is a list of Laura's favorite props!
Plus this
EXTRA BONUS
Private Facebook Group
Instant Access to the Closed-Door group: MuseLaura's Yoga Posse where you can support each
other, ask questions, and spend time with others who want to learn yoga, too!
Are you ready to commit to
your health and well-being?
Invite one of the most experienced Yoga Teachers in the world into your home!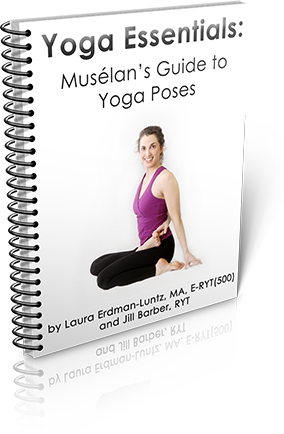 About Laura
LAURA ERDMAN-LUNTZ
Minneapolis, Minnesota, United States
Masters in Exercise Physiology from George Washington University.
She has written, directed, and taught beginner and advanced yoga teacher training programs.
Author of two yoga books: Awaken to Joy, a reflection of her year focused on the yogic precept of nonviolence, and Muselan's Guide to Yoga Poses, she literally wrote the book on learning Yoga!
She has an online studio with her husband, Ron, a Tai Chi Master, and they regularly lead retreats around the world.
I believe in beginner yoga. Many classes today assume you already know some yoga. It can be intimidating and unsafe to jump into the deep end before learning the basic beginner poses correctly. I promise you that anyone can do yoga. When you are taught slowly with attention to detail you can learn it easily and safely to enjoy all the benefits! — From Laura
What Others Have
said!
" I am a complete beginner yogi and have immersed myself in Laura's Complete Beginner Yoga classes. With each session, I learn more about my body's alignment, breathing and how to relax. I am also gaining more strength, self-awareness and flexibility. The online format is the most affordable and time flexible way to begin or continue a life-long yoga journey. I highly recommend for anyone who wants to absorb yoga into your life! "
~ Sarah M., US
"Thanks for making great classes available for everyone in the world!"
~ John S., UK
How amazing would you feel if in just ONE MONTH you were enjoying a
regular practice of yoga with COMPLETE CONFIDENCE?
Think about the things that could change in your life!
Feel calmer and more at peace.
Deeper sense of presence.
Less physical tension.
Handle stress better.
FEEL better!
If these outcomes excite you…
Then I want to reward your commitment to changing your life and stepping into the power of yoga with the MOST complete beginner series available!
As a reminder…
HERE'S WhaT YOU'LL

be getting:
The COMPLETE BEGINNER YOGA SERIES – ALL 30
videos! ($497 Value)
PRIORITY access to all 30 videos in downloadable format.
Remember, these videos are yours and can be used and reviewed at any time!
PLUS: BONUSES VALUED AT $149!!
Meditation MP3:

What a perfect addition!

Savasana (Relaxation) MP3:

You will so appreciate having this for your use whenever you need it!

Pose Sheet:

So handy to have!

Create Your Own Home Practice e-course:

When you are ready to take it to the next level!

Resource Guide:

When it's time to invest.
Plus this
EXTRA BONUS
Private Facebook Group
Continue to receive support from Laura and others who are learning yoga with you!
Get started RIGHT now!
The videos are available immediately upon purchase.

value for only
$297
INSTANT ACCESS
I can't wait to take you step-by-step to learn yoga and take your life to the next amazing level. Let's do this!

Come Experience the Joy of
Yoga!