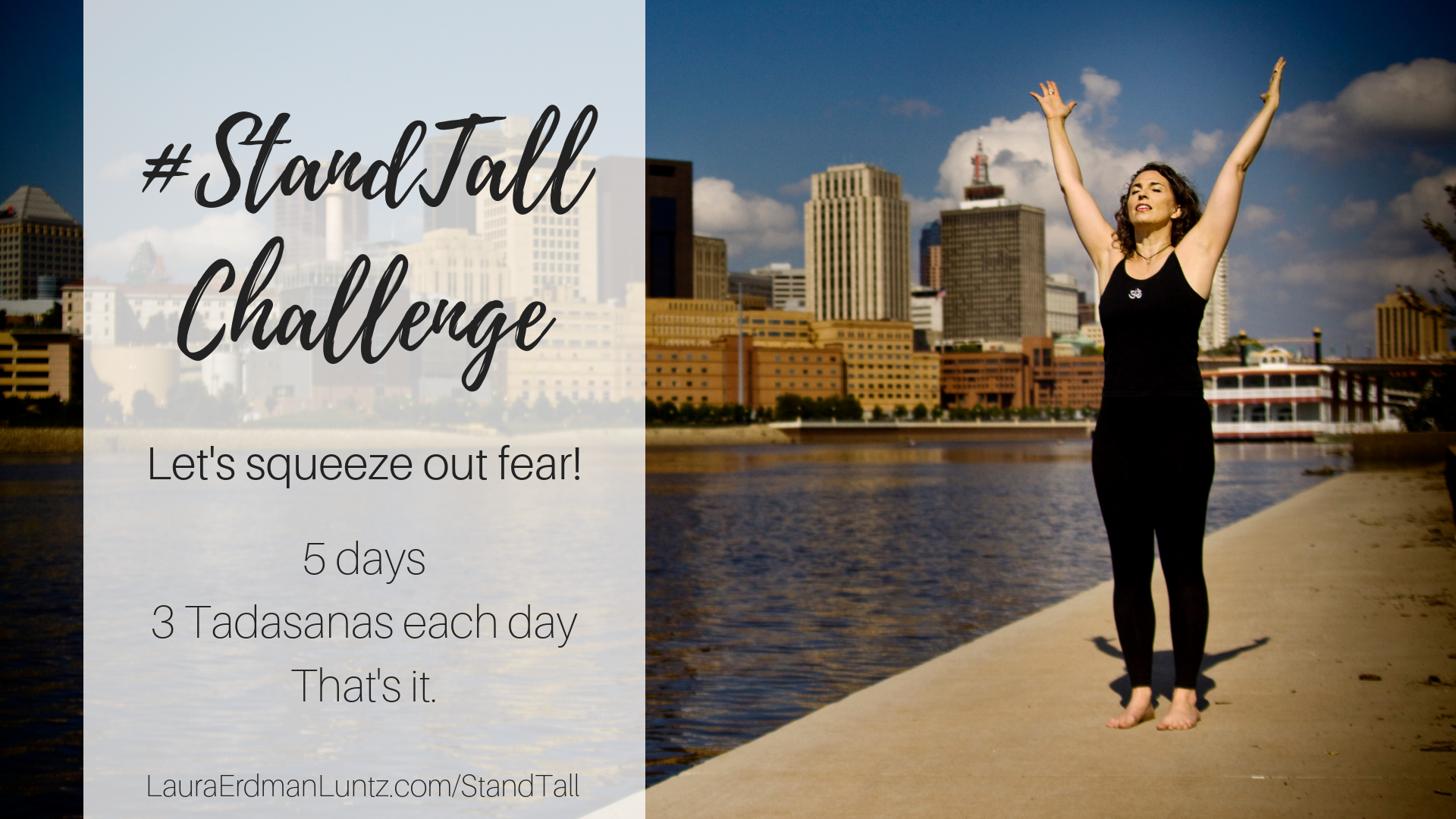 What if…there was something simple you could do to feel more confident and less fearful?
Maybe even downright BOLD??
What if I told you you can do this almost anytime and anywhere AND no one would know you were doing it!
Would you want to do it?
What if a huge group of us did it together, on the same days…think we could make a difference in the world?
I'm thinking, YES!!
It's time for another #StandTallChallenge! 
This series will squeeze out fear and bring on the umph in your life!
It's easy…really easy.
You can do it anytime, anywhere.
Are you ready?
I am challenging YOU to consciously take on a strong stand (Tadasana for the yogic-minded!) 3 times a day for 5 days!  That's it!  I want you to stand tall and feel the power of it just a few times a day.
Do NOT underestimate the power of standing strong, grounding the feet, lengthening the spine.  It can change your mind in an instant.  (Simply notice how you feel when you consciously slump — yuck, eh?)
Do this — a whole 15 times in a week — can really change your life.
The "Rules" are super simple.  Here's what you'll do:
Commit to standing in a strong stance 3 times a day for 5 days, starting on Monday, October 1st.
Each of the five days, I will be sending out a daily uber-quick video teaching you a super simple technique to make your pose stronger and more transformational.
Yep, that's it.  Think you can do it?  I KNOW you can!
If you want more fun: Post a photo of your pose on your Facebook, Instagram, or Twitter accounts with the hashtag: #StandTall.  (Photo can be of YOU, if you have someone to take the photo OR of what you are looking at as you do the pose.)
There just might be a few fun giveaways during the week to reward creativity so be sure to hashtag your photos: #StandTallChallenge. (You can tag me, too, to be sure I see it: #MuseLaura.)