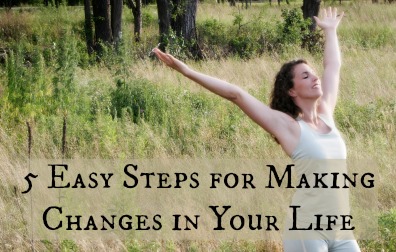 Easy Steps to Make Changes in Your Life
Step Two: Build the Umph to Do It!
This one might feel easy to skip.  Don't.  It's a big one.  If I were to choose the biggest reason people don't achieve their goals, it's this one.  If there is something you really want (or something you really want to do) and you don't have it or can't get motivated enough to do it…well, let's just say there is something in this step for you!  
Your assignment is on the bottom!
Personal strength is the umph behind creating something new in your life.  We need the extra push to get ourselves out of our inertia with how our lives are right now.  The status quo is alluring, as you know.  Slipping back into our old way of being is so easy to do (and so frustrating!).
So, building personal strength helps us two ways:
Helps us feel like "Yeah! I deserve this!"  (Actually, I recommend growling the words and adding a strong "dammit" to the end.) This feeling, this energy, will push us past the inertia of where we are now.
And it helps us overcome the tendency toward procrastination and excuses.
If you already had the umph behind what you want, you would have created it for yourself long ago.
If you have a small goal for this series, something seemingly easy, this still applies. Who among us hasn't procrastinated on a truly mundane task. I even find myself thinking, "This is not hard! Why can't I do it?"  With personal strength, that procrastination disappears!
Are you ready to cultivate a little "I deserve this!!"
Over the next couple days, I encourage you to play with these posts.  I am sharing with you innovative ways to cultivate your "I deserve this!!"
Assignment #1: For today, begin to say to yourself "I deserve this!" in your best growl.  How does it feel?  Also, do you know someone who has what you want? What can you do to emulate their personal strength?
Assignment #2: Get it into your body. Yep, use your body to start to feel more umph. Read more here.
Assignment #3: Get it into your energy body. Using your breath is a powerful tool for transformational change. Read more here.
Leave your thoughts in the comments below or let me know on my Facebook page. I would love to hear how you are doing!
Here's to fabulous changes!