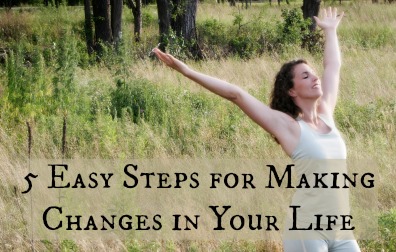 Easy Steps to Make Changes in Your Life
Step Four: Just Feel Good
Just Feel Good
Yep, that's it.  Feel Good.  When you feel good, you make better choices for yourself.  Sound too simple? You bet it is! And never underestimate the power of simplicity.
Let me tell you all about it. (If you don't have time, scroll down and read my summary.)

Summary:
Think about it, when you feel good you make better decisions for yourself.  It really is that simple.
Simplistic example: What kind of snack do you choose for yourself when you are tired and stressed? Now, what kind of snack do you choose when you are well-rested and energetic?
AND you have more control over how you feel than you realize.
This exercise is about being proactive about how you feel.
The other benefit of a feel good practice is it keeps you filled up.  Making changes in your life is hard work.  Depending on how much change you are making, you will find you need more sleep and even more food.  Placing your attention on taking care of yourself will help you keep your reserves up so you can overcome the inertia of change.
Here's one of my own Feel Good practices I want to share with you: http://bit.ly/194D4Cg
Here's to actively and proactively feeling good!
Leave your thoughts in the comments below or let me know on my Facebook page.  I will leave thoughts there periodically and I would love to hear how you are doing, too!
Here's to fabulous changes!