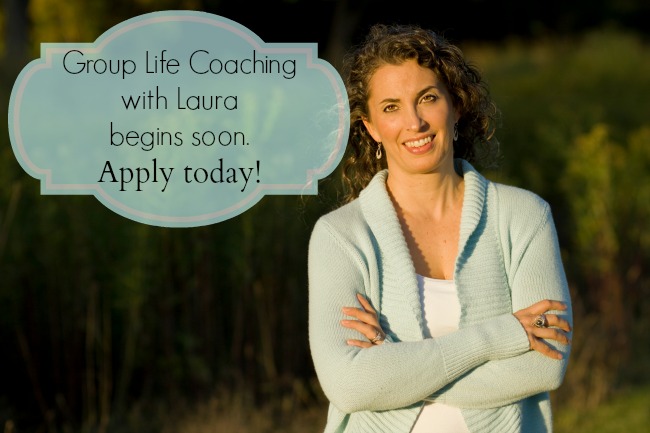 Next Coaching Group begins June 5th!
So, what change do YOU want to make?
What do you want to be able to say about your life five years from today?
How about this?
I am now starting to believe that my dreams are possible. That they CAN and WILL come to fruition.
Or this:
Remarkable is it in a nutshell.  Laura expects remarkable and miracles – and how cool is that?
Or this:
THANK YOU Laura!!!!!  You are an angel and a blessing!  Your work is life changing and I feel so fortunate that you were brought into my life!
Ready to move into 2014 with more inspiration, joy, and purpose?  To begin consciously creating your life as you want it to be?  Working with Laura is what you need to truly change your life, to move forward in a bold and courageous way to live the live you know you want to live!
Not sure? Want to know more about Life Coaching?  Download this FREE book today!
"It is so easy to sing your praises, my dear!
THANK YOU FOR EVERYTHING!!"
~ Marie McKay
Group Life Coaching:  Your investment of $200 per month includes:
2, 45-min. telesessions a month with Laura and the rest of your group (up to 5 people).
Our first sessions will be going through my flagship program: Five Steps (Plus One) for Living Your Extraordinary Life.  You will receive recordings and a workbook to work through before each session.
You will receive a focus and set intentions for each month, beginning with visioning your life.  You will also stay in contact with the group as you go along.
Continued inspiration directly from Laura.
The ability to move forward in your life FAST!!
We begin with a commitment of three months and then decide what we will do.
Group Meets:
Thursdays, 9am-10am Central
Know you are READY?
(Application is due Friday, May 30th)
Not sure? Need more information?
Contact Laura
Would you prefer to work privately with Laura?
Private Life Coaching is the most personal and fastest way to leap into the life you want.
Ready? So, let's begin!
"Stories of What Laura's Clients Have Accomplished"