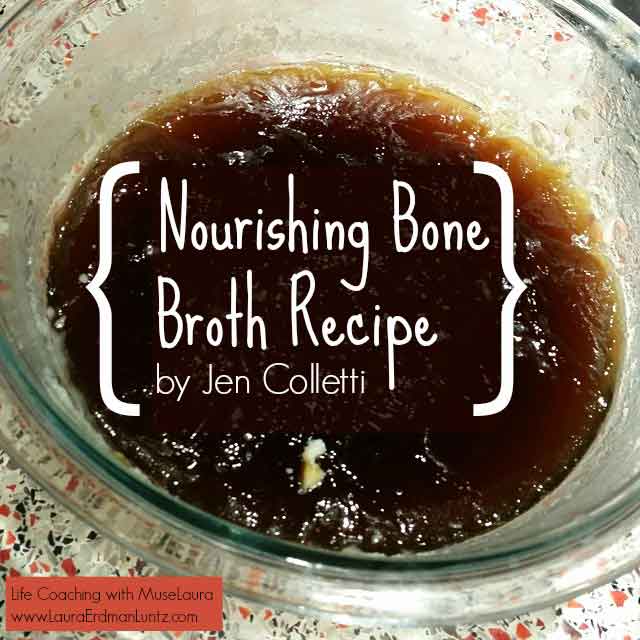 I read this post on my gf, Jen's, blog and thought I had to post it!  I have heard so much about the benefits of bone broth AND I have dabbled in making some myself.  But I definitely balked at chicken feet!  Kudos to Jen for going for it and then writing about it!  I hope you enjoy this as much as I did!
Bone Broth
(adapted from Butcher Kevin's Recipe- My local Co-op Butcher)
Ok the chicken feet were TOTALLY stepping out of my comfort zone, but I was game for stepping out on this one.  I really wanted to dive into the healing benefits of Bone Broth. The beauty of the chicken feet (if you can get past the visual), is that there are a multitude of joints, which increases the production of gelatin in the broth. Weston A. Price has an amazing list of nutritional benefits here, and a deeper explanation of the gelatin and collagen production if you want to explore further.
I don't know about you, but when I started exploring bone broth, I thought to myself… THIS is what our Grandmothers and Great Grandmothers meant about the healing affects of Chicken Soup!
1 package of Chicken Feet (in the freezer section of my co-op)
2 large beef bones – if you can get them sliced into 1-2″ sections, even better
(the more joints the better on the bones)
8 cups of water
1 Carrot -peeled and cut into chunks
2 Leeks or an Onion – sliced
1 tsp of Apple Cider Vinegar
6-8 slices of ginger root
4 cloves of garlic
salt and pepperPlace bones, vegis, spices and apple cider vinegar into the bottom of a crock pot. Cover with water.Make sure that the bones are covered with water (add more if needed). Cover slow cooker,and set on low
(by cooking it on low you keep the skum to a minimum) for 8 to 24 hours.
Strain the broth through cheese cloth or a strainer, which will filter the bones and the bits,
discard all the bits and bones. Chill in the fridge, it will be jelly like when you take it out,
or freeze in quart sized containers. Once chilled there may be a layer of fat, you can chip
this off and discard. Warm up 8oz or so at a time and drink!
You can use this like chicken broth, and add to soups, vegis, or grains. Use your imagination
and add it to whatever you are cooking, or just drink it straight. It has amazing immunity
boosting properties, healing minerals like calcium, glutamine, magnesium and collagen.
All of which promote stronger immunity, foster digestive and intestinal health.
As well as reduce inflammation and improve joint health.