What if joy was tangible…with specific, easily defined steps you could take to create it for yourself?
It is!
What if we could shift our attitude by just making some small changes in what we do in our every day?
You can!
In fact, I wrote a book on it, my first book, Awaken to Joy. (You can hear me tell the story behind this book – and take you through the first steps on my podcast here.)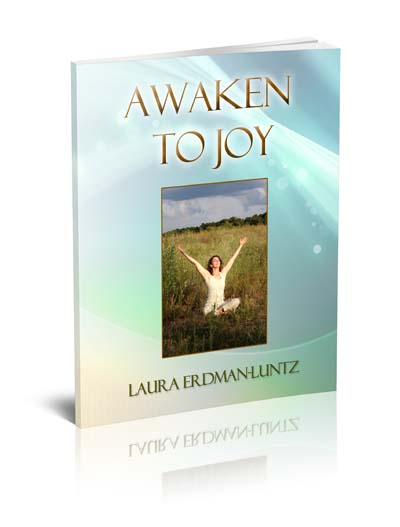 And I want to take you through those steps together – starting Tuesday, September 6!
Together, let's move beyond the ordinary and bring greater peace into our lives. Now is the time to feel more joy in your life.
I take you through 12 tangible steps you can take to experience more joy in your life.
I would love for you to join me. Each step is something that is easily fit into your day, you are simply tweaking what you already do.
Everything we do either adds joy to our lives or drains joy from our lives. We often continue to expose ourselves to the drains because we don't think about it. Let's take the next two weeks to put our attention on what we do so we can create more joy for ourselves.
Here's what you do:
Sign up here:
You will receive:
Worksheet
An occasional email to keep you inspired
Probably a few goodies along the way — I always think of things as we go along!
I will be sharing each step for you, M-F, via Live Stream on my Facebook page and Periscope (@MuseLaura). I will post the videos on my YouTube channel and here on my blog, if you miss them. (Just scroll down. You will find them here!)
I will also use my FB page to continue to inspire you and help you Feel Good so be sure to Like the page and check in regularly. I want to make this our FEEL GOOD MONTH!
If you signed up for this series, you will also receive occasional emails with the links to the videos I have already done in case you miss them.
Are you ready to experience more joy? Yeah, me, too.
Awaken to Joy Video #1: Let's get started!
Awaken to Joy Video #2: PART I: Releasing Anger
Awaken to Joy Video #3: Take a bite out of fear so it doesn't effect you as much!
Awaken to Joy Video #4: A Perspective on Fear
Awaken to Joy Video #5: The people in your life
Awaken to Joy Day #6: A simple tweak around your thoughts on eating
Awaken to Joy Day #7: Media choices
Awaken to Joy Day #8: Choose your words