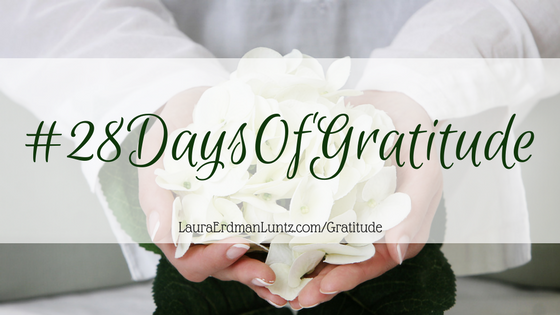 Gratitude is such a powerful emotion; it breeds joy and magic in our lives and
helps us feel contentment about the lives we are living.
Last November, I purchased the book The Magic by Rhonda Byrnes. I thought it was going to be something different than it was. But when I cracked the cover and peered into the pages, I knew it was exactly what I needed.
I took myself through the exercises for the month of November and gifted it to all of my business partners at Thanksgiving to encourage them to indulge through December.
The difference for me was amazing. I felt better after the first day and my family noticed a difference after just three days. I was lighter, more joyful and definitely appreciative of the incredible abundance around me.
I am frequently amazed at how easily we can be sidetracked by the one or two areas of our life that are challenging us, focusing on the pain in those areas and missing the joys of the other areas of our lives completely. I don't mean ignoring them or pretending it isn't bad or needs our attention. But to let it completely derail us from noticing what IS going well in our lives is just plain sad.
I have been feeling a bit derailed the past couple of months. Once I begin to forget what is wonderful in my life, I begin to attract more not so wonderful things. It is time to get back on track!
And, you know me, I like company!
I am beginning another tour of this book and would love to invite you to join me! We will officially begin on November 1. (If you are joining us late or reading this at a much later date, you can still join. I am going to make it an automated program so anyone can do the 28 days whenever they need it!)
While we will be following The Magic by Rhonda Byrnes, of course, I will be adding additional goodies!
Sign up to receive:
A 50-min yoga class video for cultivating gratitude.
An email every few days to remind you of what you are working on.
A few other goodies along the way!
I will also be posting daily on my facebook page. You will enjoy inspirational quotes, Feel Good Moments, Live Streams and more to help you cultivate the feeling gratitude. Plus, I am thinking a few giveaways, too.
Sign up now and you will receive the Gratitude Yoga class in your first email! (Actually, your second email. Once you sign up, you will receive a confirmation email. Be sure to find it and confirm your desire to join us. THEN your next email will have the class!)
Welcome!